Sample Display Recognition:
Displayed: Army.
All Five Service Branches, Army, Coast Guard,
Marine and Navy are Applicable.

Military Branches
All Military Service branches are applicable:
Air Force, Army, Coast Guard, Marine Corps, Navy


You have four display types to choose from:
Black & White (No Color)
Heavy Bond Enclosure
Heavy Bond Enclosure
Colors: Regal, Black, Navy
Trimmed in Appearance Gold

Ready for Mantle or Shelf Display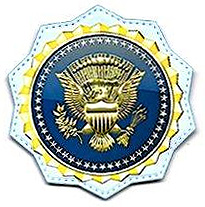 A Shadowbox Patch is available.
(Not for wear on clothing)

Issue Requirements
You must submit the following:
An unaltered photocopy of your DD-214, WD AGO, NAVPERS, NG or other military issued document clearly displaying your Presidential Service Badge authorization.
NOTICE


This Display Recognition is available ONLY to authorized recipients who possess orders, or authorization form, or release documentation that confirms award eligibility. (See "Issue Requirements"). To obtain either a Display or a Display Recognition for your authorized award you will be required to provide military-issued documentation authorizing your award. There are no exceptions.

WARNING!
You must NOT submit a military issued document or photocopy that:
has been altered in any way by you after
the original's official issue
contains information or corrections or
additions that you entered
lists awards or training you knowingly did not receive
contains highlighting, colorizing or other markings you entered

Be advised that on request any knowingly fraudulent document sent by you will be released to the Federal Bureau of Investigation (FBI) that may result in prosecution and/or fine/imprisonment.
Email Questions, or Phone: 1-562-422-4100 (Pacific Time Zone)

Personnel Branch
Processing and Delivery
| Style | Admin | Shipping | Total |
| --- | --- | --- | --- |
*** USPS USPS Shipping fee based on 1 Certificate shipped to any U.S. state, FPO or APO
** USPS USPS Shipping fee based on 1 Certificate shipped to any U.S. state, FPO or APO
Contact The War Library for international shipping cost

You may apply for your Display Recognition using a...
Check Debit card (* Shipped within 1 week)
Charge card (* Shipped within 1 week)
Personal, Business, Bank or Cashiers Check ( Shipped in 6 weeks)
Money Order (* Shipped in 6 weeks)
(* Upon reception of required documentation)
Complete and MAIL this APPLICATION FORM.
Don't forget to include an unaltered COPY of your DD-214, WD AGO 53-55 or other pre-arranged document(s).
DISPLAY RECOGNITION and/or APPLICATION FORM

Records Chief (REC-AMW)
The American War Library
817 East Via Carmelitos Ste 319
Long Beach CA 90805-7549

Click here for answers to common questions

Email: Presidential Service Badge Display Recognition Inquiry

Telephone: 1-562-422-4100 (Pacific Time Zone)

Copyright ©

The American War Library
Military and Veteran Websites
The G.I. Photograph Museum of Honor
Locator Registry Applications
Accessing The Worldwide Military Personnel Database

Issue Regulations
Presidential Service Badge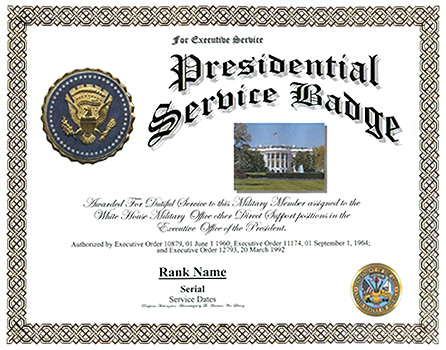 Click for larger image Awarded For Dutiful Service to Military Members assigned to the White House Military Office other Direct Support positions in the Executive Office of the President.
Go To Top of Page
Go To Issue Regulations for Other Medals and Badges