| Style | Admin | Shipping | Total |
| --- | --- | --- | --- |
* Total/Shipping fees, above, apply to 50 U.S. states
* Contact The War Library for international shipping cost

You may apply for your Display Recognition using a...
Check Debit card (* Shipped within 1 week)
Charge card (* Shipped within 1 week)
Personal, Business, Bank or Cashiers Check ( Shipped in 6 weeks)
Money Order (* Shipped in 6 weeks)
(* Upon reception of required documentation)
Please complete and MAIL this APPLICATION FORM.
Don't forget to include an unaltered COPY of your DD-214, WD AGO 53-55 or other pre-arranged document(s).
DISPLAY RECOGNITION APPLICATION FORM

Records Chief (REC-AMW)
The American War Library
817 East Via Carmelitos Ste 319
Long Beach CA 90805-7549

Click here for answers to common questions

Email: Navy Hospital Corpsman Display Recognition Inquiry

Telephone: 1-562-422-4100 (Pacific Time Zone)

Copyright ©

The American War Library
Military and Veteran Websites
The G.I. Photograph Museum of Honor
Locator Registry Applications
Accessing The Worldwide Military Personnel Database

Issue Regulations
Navy Hospital Corpsman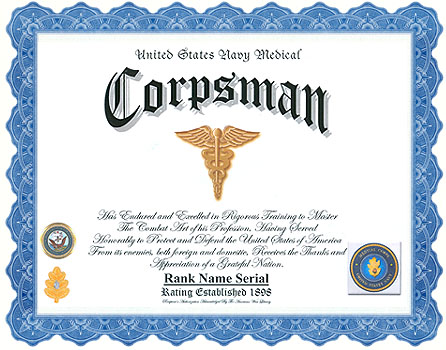 Click Certificate for larger image
You have endured and excelled in rigorous training to master the combat art of your Profession, having served Honorably to protect and defend the United States of America from its enemies, both foreign and domestic, receive the thanks and appreciation of a grateful Nation.
Go To Top of Page
Go To Issue Regulations for Other Medals and Badges