Copyright © Since 1988

| Contact The American War Library Email | 1-562-422-4100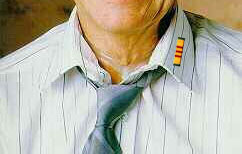 Wearing My
True Color
If you don't wear one of your military service ribbons on your lapel or your collar every day you don't have the right to complain that your military service isn't appreciated or your war is being forgotten... because it is YOUR job, not someone else's job, to daily remind people about military service and our wars...
When we were young military medals didn't mean much, but as we grow older and wiser we realize that a personal sacrifice for something very important -- our country -- begins to mean a lot...
---
Where To Wear Your Military Color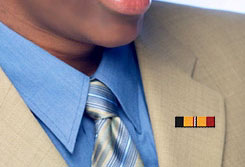 Military medal ribbons should be worn on the left suit, jacket or coat lapel, shirt collar or on the left shortsleeve.
Clothing The Military Medal Ribbon Should Not Be Worn On
Military Medal ribbons should not be worn on T-shirts, costumes or political garments. If forbidden by an employer, ribbons should not be worn at work.
When Military Medal Ribbons Should Be Worn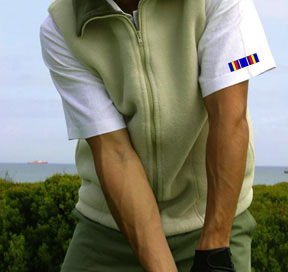 To show your pride in your military service, your selected military medal ribbon can be worn daily and should be worn for the full months of May (Memorial Day) and November (Veterans Day).
Which Military Medal Ribbon Should You Select for Daily Wear
Any Military Medal ribbon can be selected for daily wear. Ribbons representing Valor or war campaign duty normally take precedence over service ribbons. An Order of Precedence Chart is available:
A Proud History Lost
Personal pride in displaying one's military service declined during the final years of the Vietnam War. President Lyndon Johnson was the last president to wear his military color, the Silver Star, on a daily basis. Pride in military service has only recently recovered after decades of neglect. America is now showing respect to military veterans who take pride in demonstrating respect for their military service and sacrifices.
Can Qualification Badges Be Substituted for Daily Military Medal Ribbon Wear?
No. There is no precedent in American or European military history for the daily wear of a military qualification badge on a daily or Military Holiday basis.
---
Contact Person for this website: